Oregon State Bar Bulletin — MAY 2003
Magic of the Trail

By Melody Finnemore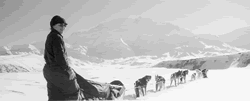 Life reaches near perfection for Charlie Adams when he's lying beneath the starry sky of the Alaskan wilderness, listening to his team of sled dogs trade nightsong with a pack of wolves howling in the distance.
Adams recently returned from his sixth trip to Alaska, where he began mushing in 1998 and has since traveled close to 1,300 miles by sled. Adams' annual trek to the winter wilderness is a return to a place he felt most at home as a boy growing up in Prineville.
'I grew up in a logging family and spent a lot of time in the woods,' he said. 'I found I had a deep affection for being outside in the winter.'
Adams' time in the woods ended abruptly when a saw mill accident severely injured his spine. He was 21, had recently completed his senior year of college and planned to attend law school to become a trial lawyer.
'It became apparent that, from the extent of my injuries, that wasn't going to be possible. The next closest occupation was appellate law,' he said, noting appellate work would allow him to work from his office or home rather than struggling to deal with his disability in courtrooms and clients' offices. Despite his challenges, he never doubted that his intellectual curiosity would surpass his physical limitations.
'I didn't know any lawyers until law school. My conceptions of law and what lawyers did were from reading everything I could about Clarence Darrow, watching Perry Mason when I was home ill from school, and finding that I liked learning about a lot of different things. In the end, I think that's what drew me to the law.'
After graduating from the University of California at Berkeley in 1974, Adams joined Stoel Rives, where he continues to practice appellate and public contracting law. The chronic pain he suffers from the accident prevents him from sitting for long periods, and during law school and his first 20 years of practice he did nearly all of his work standing or lying down. Surgeries have eased the pain enough for Adams to drive a car and fly on airplanes, but he still must stand at the rear of a courtroom or lean against the wall during long meetings.
Just as the accident forced Adams to change his career path, it also snuffed his plans to move to Alaska. For nearly two decades, he pined to be back in the winter wilderness but wondered whether his body could handle it. In the late 1980s, he attended the Northwest School of Survival, where he learned to start a fire with sticks, build a snow cave and live without tools or supplies.
'As I began to celebrate being back in the woods and snow camping, I thought about being in Alaska again,' he said. 'I also started developing an interest in dog mushing.'
His curiosity led him to Lake Minchumina, Alaska, where he met guides Jack and Sherri Hayden and prepared for his first trek to Denali. He also met the dogs who would pull him. He has come to know the personalities of a few of them, and has learned that most sled dogs are extremely independent and passionate about running.
'The relationships I've had with some of the dogs range from rage to affection,' he said with a smile. 'You have value to the dogs only because you allow them to run, so they like you in that sense. If you fall off the sled, as I have many times, they won't stop for you. On the contrary, they will run even faster because the sled weighs less without you on it.'
Adams acknowledges the controversy surrounding dog sledding. After multiple deaths and injuries to dogs during the first years of the Iditarod, many began to question the sport's physical toll on the dogs.
'Since then, the folks who run the Iditarod have made a great effort to instate care stations along the route, at each of which every dog is examined by one of 35 veterinarians authorized to make the call about whether a dog should run or not,' he said. 'The quality of care in long-distance dog racing in the last 20 years has improved greatly.'
And though humans can't know for sure, Adams said the dogs seem to enjoy working as a team and running the trails.
The magic of being out on the trail is also one of Adams' greatest pleasures. There are plenty of obstacles, such as falls off the sled and dangerous crossings over precarious ice. Those are outweighed by the peace that comes with mushing, when one hears only the dogs' panting and the sled sliding gently over the snow.
'I think to do any job well it's critical to have periods of respite and something that fills the soul,' he said. 'It's important for me to find opportunities where I can be by myself and sort of plumb the depths and listen to what's inside. Those times make me a better father, a better husband and a better attorney.'
ABOUT THE AUTHOR
Melody Finemore is a Portland-area freelance writer.
© 2003 Melody Finemore
---