Help Us Tell the Story
Our goal is to build on the history featured in this exhibit and add new milestones over time. Please share additional diversity and inclusion history by contacting us here at diversity@osbar.org.
How You Can Help

You can help raise funds for the content, design, and production of the story wall via a group--your section or firm, for example--or through a personal donation. The sponsorship levels coincide with the colors of the rainbow: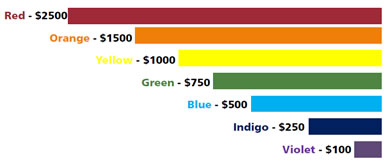 Red & Orange Color levels: your name and logo will be displayed on a recognition plaque next to the story wall, on the printed posters, and in a link on the interactive website. Red level sponsors will be listed in a larger font on the plaque and will receive a copy of the printed poster.*

Yellow level: your name and logo will be displayed on a recognition plaque next to the story wall, your name and logo on the printed posters and in a link on the interactive website.*

Green & Blue Color levels: your name and logo will be displayed on the printed posters and in a link on the interactive website.

Indigo & Violet Color Levels: your name, logo and link will be displayed on the interactive website.

*(sponsorship recognition on the plaque next to the exhibit applies to sponsorships received before November of 2014.)


Thank you!
We have reached our minimum fundraising goal of $30,000 and have launched the Story Wall project, which is scheduled for a November 2014 unveiling. We would like to thank and recognize our sponsors:
$2,500

Attorney Admission Fund for the United States District Court for the District of Oregon on behalf of the federal practitioners in Oregon**
Convocation on Equality
Davis Wright Tremaine LLP
Multnomah Bar Association
Schwabe, Williamson & Wyatt
Stoel Rives LLP




$1,500




$1,000

Lewis and Clark Law School
Miller Nash LLP
Oregon Specialty Bar Collaboration:


OGALLA: The LGBT Bar Association of Oregon; Oregon Hispanic Bar Association; Oregon Minority Lawyers Association; Oregon Women Lawyers

OSB Business Law Section
Tonkin Torp LLP
Willamette University College of Law

$750

Oregon Chapter of the National Bar Association

$500

OSB Civil Rights Section
OSB Constitutional Law Section
OSB Disability Law Section

$250

$100

Honorable Angel Lopez
Don H. Marmaduke, Attorney at Law
Diane S. Sykes, Attorney at Law, P.C.


**A generous $7,500 grant

We still need additional financial support and we are seeking historical information for the story wall from bar members. Please contact Benjamin James for more information on how you can contribute to the project.




What does Diversity and Inclusion mean at the Oregon State Bar?


Diversity and inclusion mean acknowledging, embracing and valuing the unique contributions our individual backgrounds make to strengthen our legal community, increase access to justice, and promote laws and creative solutions that better serve clients and communities. Diversity includes, but is not limited to: age; culture; disability; ethnicity; gender, gender identity or expression; geographic location; national origin; race; religion; sexual orientation; and socio-economic status.

Our business case statement: A diverse and inclusive bar is necessary to attract and retain talented employees and leaders; effectively serve diverse clients with diverse needs; understand and adapt to increasingly diverse local and global markets; devise creative solutions to complex problems; and improve access to justice, respect for the rule of law, and credibility of the legal profession.



Diversity and Inclusion: Making Us Stronger


Planning Team Members:
Bill Chin, Professor, Lewis & Clark
Paul Nickell, Bulletin Editor, Communications, OSB
Mariann Hyland, Director, Diversity & Inclusion, OSB
Mary Anne Anderson, Staff Attorney, US District Court, OR
Benjamin James, Assistant, Diversity & Inclusion, OSB
Diane Sykes, Senior Assistant Attorney General, Civil Rights Unit, DOJ
Anna Zanolli, Manager, IDT, OSB
Danny Santos, Associate Dean for Student Affairs & Admin, Will. Univ.