Oregon State Bar Bulletin — DECEMBER 2005
By Cliff Collins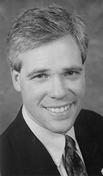 "I am an independant thinker. The greatness of America is her heritage of independant and creative thought.
Salem trial lawyer Vance D. Day planned to go into education or politics. Law wasn't an area he had considered.
But he met and married Mattie Day while attending Regent University in Virginia to obtain a master's in public policy. Shortly afterwards she became pregnant and volunteered to forego her intent to become an attorney. She told him, "Why don't you go to law school?"
His decision to do just that "was partly practical," he admits. But "the law is history, because the law is based on historical documents. My innate drive to be involved with some aspect of history was met. Politics also melded well. I went to law school as a way to meld both" interests.
Now he has tried more than 250 cases. But a relatively recent history-related sideline — giving presentations on leadership, before military, police, governmental, business, educational and political organizations — has become such a success that he could do it full-time if he chose.
Day professes no personal expertise in the area of leadership. Rather, he serves as a facilitator and producer of presentations given by primarily one, and occasionally two, members of the military company made famous by the book and HBO miniseries "Band of Brothers." "When I travel with these heroes from World War II, I feel like a caddy," he says. "I'm able … to capsulize their story."
It began for Day when he read historian Stephen E. Ambrose's bestseller, which chronicled the Easy Company, 506th Parachute Infantry Regiment, 101st Airborne Division, from basic training to D-Day. Day had a neighbor who had fought with the 101st, and neighbor's next-of-kin gave Day the relative's military jacket. He began researching company mates of the relative, then read the Ambrose book twice.
He sought out Astoria native Donald G. Malarkey, a decorated sergeant who had served in the 101st and is now living in Salem, a few blocks from Day's law office, as it turned out. Day invited Malarkey to lunch, Malarkey asked, "Who's paying?," and the two became friends. Malarkey said he was getting invitations to speak and needed assistance. Day volunteered his services, using his background in education, copywriting and television production.
Day and Malarkey's presentations scored with audiences: "The use of mixed media and real-life personal stories, combined with leadership theory, creates a very powerful learning experience," writes the host of one seminar. "A creative and original approach to leadership," praises another.
The 2001 10-part HBO series used actors to recreate "Band of Brothers," but Day has raised $50,000 to produce an actual documentary of the 101st Airborne, based on his interviews with Malarkey, Lt. Lynn D. "Buck" Compton — who also sometimes participates in the leadership presentations — and other living company members.
A descendent of Oregon Trail pioneers, Day was born and raised in Portland to a family of singers, attending Catlin Gable School and Lincoln High School. He finished as an student leader, Eagle Scout and letterman in several sports. He then graduated magna cum laude from Warner Pacific College with a degree in social science education. He entered graduate school in Jerusalem at the Institute of Holyland Studies. "I wanted to study under professors who were doing an archeological dig," he explains. "The institute offered that."
But he ran out of money before he could finish, and began working as a writer for the English-language Middle East Television's nightly news. For about a year, he worked as a television producer there, before returning to the States to attend Regent University. After his wife became pregnant, he applied to and was accepted by Willamette University School of Law.
While there, he clerked under Salem's Ralph C. Spooner, whom he describes as a brilliant lawyer who could "captivate a courtroom." Day mostly worked on insurance defense cases. After Day passed the bar, "Ralph wanted me to stay with the firm, but I wanted to represent individuals rather than insurance companies," he says.
"I love being a lawyer," Day stresses. "I don't plan to leave the practice to be a leadership consultant." But these days his involvement with politics goes beyond what he would encounter in everyday law practice. After serving as treasurer for the Oregon Republican Party and the 2004 Bush-Cheney Oregon campaign, he succeeded Kevin Mannix in July to become chairman of the state party.
"I'm known as a conservative, but I sometimes give my fellow conservatives fits," Day says. "I am an independent thinker. The greatness of America is her heritage of independent and creative thought." For example, Day disagreed with the Christian Coalition's aggressive steps into the political arena beginning in the 1980s, which he describes as "tribalism in politics."
In his leadership seminars, Day emphasizes the power of one person, citing key individuals who have helped him at crucial points. "I am a blessed man," he says. "I am humbled by the opportunities I've had."
ABOUT THE AUTHOR
Cliff Collins is a Portland-area freelance writer and a frequent contributor to the Bulletin.
© 2006 Cliff Collins
---