50-Year Member Recognition Luncheon
Honoring the Class of 1964
Members of the Oregon State Bar's Class of 1964 marked their 50th year of membership with a celebration at the Tualatin Valley Country Club on April 4, 2014. Thirty class members along with family, friends and the Board of Governors attended the luncheon in their honor.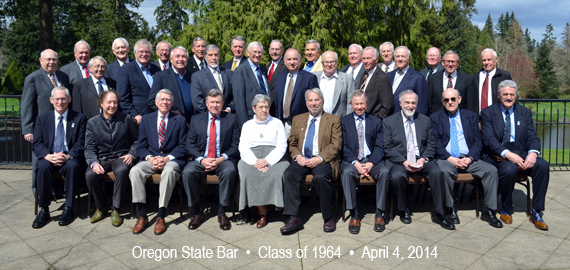 Seated, L-R: Richard Spier, OSB president-elect; Jon M. Dickinson; Hon. Robert B. McConville; Robert D. Richmond; Donna D. Davis; Donald R. Crane; James E. Petersen; Jacob E. Vilhauer, Jr.; Charles L. Kobin; Tom Kranovich, OSB president.
Standing, L-R: Walter H. Grebe; Barnes H. Ellis; Malcolm H. Scott; Thomas F. Levak; George O. Tamblyn; Hardy Myers; Dennis M. Chorba; Hon. John Jelderks; Hugh K. Cole; A. Richard Grant; Ronald L. Bryant; Hon. Carroll "Cal" J. Tichenor; Carl Burnham, Jr.; Hon. Ronald D. Thom; George V. Carney; Dan Van Thiel; Richard E. Forcum; Robert P. Coblens; William D. Rutherford; James R. Park; Dean D. DeChaine; Hon. Robert J. Morgan.
Not pictured: Jerome R. Barton; Donald G. Bird; Hon. James C. Donnell; William Henry Hampton III; Sherman B. Kellar; Tyler Marshall; Robert T. Mautz; B. Gary McBride; Gene A. Noland; Lance Tibbles; Lee S. Werdell.