OSB Events
2013 50-Year Member Recognition Luncheon
Members of the Oregon State Barís Class of 1963 marked their 50th year of membership with a celebration at the Tualatin Valley Country Club on March 29, 2013. Twenty class members along with family, friends and the Board of Governors attended the luncheon in their honor.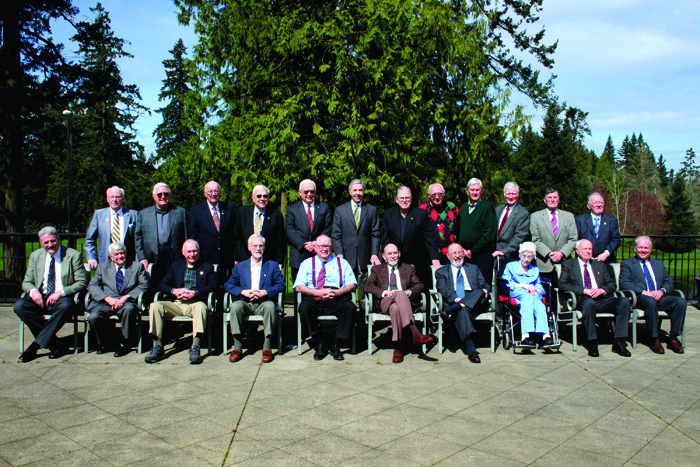 Seated, L-R: Tom Kranovich, OSB president-elect; Hon. Jackson L. Frost; Charles I. McGinnis; Ronald E. Bailey; Paul W. Jones; Bruce J. Rothman; Bernard Jolles; Alice M. Plymell; George D. Rives; Michael Haglund, OSB president.
Back Row, L-R: Jerry G. Kleen; Richard A. Sly; Paul K. Davis; Gersham Goldstein; James E. Redman; Hon. Garr M. King; Bruce D. Kayser; William V. Bierek; Daniel E. O'Leary; Charles J. Merten; Hon. William L. Richardson; Hon. Karl W. Freerksen, Jr.
Not pictured: Jann W. Carpenter; Jean W. Christensen; Gerard K. Drummond; Ridgway K. Foley, Jr.; Robert D. Geddes; Vincent R. Larson; Roger A. Nelson; Bruce B. Samson.