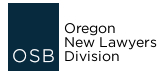 ONLD Upcoming Events
2014 Series
Mark these dates on your calendar!
Events with registration available are indicated with a button linking to online registration. Registration for future events will open soon. All brown bags will be held at the Multnomah County Courthouse, room 208 at noon.
At-the-door registration is available by cash or check only.

---
Practical Civil Litigation Training
September 20, 2014
The OSB Litigation Section and the Oregon New Lawyers Division are proud to present a CLE program focusing on practical civil litigation skills. The program features many of the top civil litigators in the State. The $50 registration fee will cover a light breakfast, lunch, multiple CLE credits and OSB Litigation Section membership for 2015. By registering for this event you will also receive complementary admission to a February 2015 CLE program focusing on the basics of trial preparation. This is a CLE no young lawyer should miss! Registration is limited to the first 50 lawyers. The date for the February CLE program will be announced by the end of the year.
PROGRAM LOCATION
Oregon State Bar
16037 SW Upper Boones Ferry Rd.
Tigard, OR 97224


Program Schedule
8:30 AM - 9:00 AM
Registration
9:00 AM - 10:00 AM
Valuing a case: Sign-up, Set-up and Managing Expectations
Ben Eder, Thummel, Uhle & Eder
Matt Kehoe, Law Offices of Matthew Kehoe
10:10 AM - 11:10 AM
Drafting, filing and serving complaints and answers
Laura Salerno-Owens, Markowitz, Herbold, Glade & Mehlhaf
Emily Templin Fox, Markowitz, Herbold, Glade & Mehlhaf
11:10 AM - 12:10 PM
Discovery Requests: Deciding what is needed to litigate your case, and how to get it
Steven Lovett, Stoel Rives LLP
Richard Vangelisti, Vangelisti Law Firm LLC
12:10 PM - 1:30 PM
Break/Lunch

1:30 PM - 3:00 PM
Motion Practice: When and Why to File
Andrew Schpak, Barran Liebman LLP
Tyler Volm, Barran Liebman LLP
3:10 PM - 3:40 PM
Arbitration 101
Mark Friel, Stoll Berne
3:40 PM - 4:10 PM
Mediation 101
Susan Hammer, Dispute Resolution Services
4:10 PM - 4:40 PM
Settlement Conferences 101
The Honorable Tracy Prall, Marion County Circuit Court

SPEAKER BIOGRAPHIES

Ben Eder is a partner at Thuemmel, Uhle & Eder, a four person firm which has completed over 1,500 criminal jury trials. Ben specializes in Driving Under the Influence of Intoxicants (D.U.I.I.) defense but has tried everything from attempted aggravated murder to vehicular violations. Ben has been named a Top Trial Attorney under the Age of 40 by the National Trial Lawyers (awarded to the top 1% in the field), Rising Star by Super Lawyers Magazine and one of the top 25 Up & Coming Lawyers in the State of Oregon under the age of 40 in 2011 and 2012.
Emily Teplin Fox is a commercial litigator at Markowitz, Herbold, Glade & Mehlhaf who frequently works on her firm's most complex and challenging cases. She brings intellectual rigor and pragmatic problem-solving skills to all manner of business disputes when representing individuals and corporations in federal and state court. Emily graduated from Yale Law School, where she received the Stephen J. Massey Prize for exemplifying the values of the law school's clinic. She began her legal career as an Equal Justice Works fellow at the Minnesota Disability Law Center, and subsequently clerked for federal judges at the trial and appellate level. Among other community activities, Emily is an active member of the MBA's Equality and Diversity Committee, the associates' committee of the Campaign for Equal Justice, and the board of Oregon Lawyers Against Hunger.
Mark Friel has practiced law at Stoll Berne since 2000, after receiving his law degree from the University of California at Berkeley. Mark's practice focuses on securities litigation, alternative dispute resolution, business disputes, class actions, unfair competition/trade secrets/non-compete agreements, consumer law, and antitrust. He litigates state and federal court cases, as well as cases in private and court-mandated arbitrations. Mark also represents clients in mediations, at all stages of disputes, and is a trained mediator and arbitrator, who also serves on several state and federal ADR panels. Beginning in 2015, he will serve as the chair of the OSB Alternative Dispute Resolution Section's Executive Committee.
Susan Hammer began mediating in 1988 as part of her law practice at Stoel Rives, LLP, where she was a partner. Ten years later, she started her own mediation practice and has mediated a range of commercial disputes, employment claims, personal injury, product liability, medical malpractice cases and public policy disputes. Since 2001, she has been a Distinguished Fellow with the International Academy of Mediators (IAM) and additionally served on the IAM Board of Governors since 2008. She is recognized in The Top 25 Oregon Women Lawyers, the Best Lawyers in America and Oregon Super Lawyers. Susan was also named the 2012 Oregon Mediation "Lawyer of the Year" by Best Lawyers and is a Senior Fellow at the Willamette University College of Law Center for Dispute Resolution.
Matthew H. Kehoe has been a member of the Oregon State Bar since 1990 and started his practice in Roseburg, Oregon handling divorces, wills, trusts, business disputes, real estate, contract criminal prosecutions and mental commitment hearings. In 1992, he opened his own office in Hillsboro as a general practitioner, but now mainly works on personal injury matters. He has tried over a hundred jury trials and settled thousands of injury cases. Matt has presented at the OADC Conference on valuing Plaintiff's cases and at numerous CLE courses on personal injury. He is a member of the American Association for Justice, Oregon Trial Lawyers, and Multnomah and Washington County Bar Associations.
Steven T. Lovett is a partner at Stoel Rives LLP and immediate past chair of the firm's Technology and Intellectual Property practice group. Steve represents businesses in patent, trademark, trade secret, unfair competition and complex business litigation. He is listed in Oregon Super Lawyers and has been recognized as one of "America's Leading Lawyers for Business" by Chambers USA. For six straight years he has been listed in Best Lawyers in America for his work in commercial and intellectual property litigation. Steve also serves or has served on numerous boards, including Big Brothers Big Sisters/Columbia Northwest, Oregon Episcopal School and Playwrite, Inc. He is the current chair of the Outreach subcommittee of the Executive Committee of the OSB Litigation Section. Steve is a frequent presenter and author having been published in the Portland Business Journal and had speaking engagements in front of the Oregon State Bar, Multnomah Bar Association, and other venues. Steve graduated from Tulane University and Fordham Law, where he was a member of the National Moot Court Team. Steve started his practice in New York City at Cravath, Swaine & Moore, before moving to Oregon and joining Stoel Rives in 1990.
Laura Salerno Owens is a litigator at Markowitz Herbold Glade & Mehlhaf with broad experience representing employers and executives in single and class actions lawsuits and before the Bureau of Labor and Industries and Equal Employment Opportunity Commission. She represents clients in a variety of employment law issues including wage and hour disputes, discrimination charges, sexual harassment allegations, whistleblower claims, noncompetition agreements and trade secrets, the Family Medical Leave Act, the Oregon Family Leave Act and the Americans with Disabilities Act. Laura has been recognized as a Rising Star by Oregon Super Lawyers for the past three years, was named as an Up & Coming Lawyer by the Daily Journal of Commerce, and was the recipient of the OSB New Lawyers Division Volunteer of the Year Award and Member Services Award, and the ABA Younger Lawyers Division National Services to the Bar Award.
The Honorable Tracy Prall serves in the Third Judicial Circuit in Marion County and was appointed in 2008. Prior to taking the bench, Judge Prall received her Bachelor of Arts Degree from Western Oregon State College and her Doctor of Jurisprudence degree from Willamette University College of Law. For over three years, she presided over delinquency and dependency cases in the Marion County Juvenile Court and oversaw three treatment courts. Judge Prall currently serves as Co-Chair of the Marion County Children and Families Commission and as a member of the Child Welfare Advisory Committee and the Uniform Trial Court Rules Committee. She is also a member of the National Association of Drug Court Professionals and volunteers for the Oregon Trial Advocacy College and the Willamette University College of Law Trial Practice Course.
Andrew Schpak is a Partner at Barran Liebman, represents management in employment litigation and provides advice in employment matters. He is the current Chair of the American Bar Association (ABA) Young Lawyers Division (YLD), the Oregon State Bar's Young Lawyer Delegate to the ABA House of Delegates, and a Life Fellow of the American Bar Foundation. Locally, he sits on the Multnomah Bar Association Board of Directors, acts as the Board Liaison to the Judicial Screening Committee, is a past President of its Young Lawyers Section. He also serves as Chair of the Board of Directors of the Hollywood Theatre, and Chair of the Board of NWEEO/Affirmative Action Association. Andrew received "Star of the Year" Awards from the ABA YLD in 2011 and 2012. He has been a Rising Star for Oregon Super Lawyers since 2009 and has been listed as a Super Lawyer since 2013. In 2014, he was ranked as an "Up and Coming" attorney for Labor & Employment law in the state of Oregon by Chambers & Partners USA. Andrew graduated from Reed College and received his J.D. from Cornell Law School and is admitted to practice in Oregon and Washington.
Richard Vangelisti focuses his practice on plaintiff's personal injury and wrongful death matters in Oregon and Washington. He is a member and past chair of the Oregon Bench-Bar Joint Commission on Professionalism. He is the immediate past-president of the Multnomah Bar Association. He received the 2009 Judge James M. Burns Federal Practice Award. Rich holds an AV-Peer Review Rating and is listed in the current edition of the Best Lawyers in America for plaintiff's personal injury. He is also a frequent lecturer and author on trial practice and professionalism.
Tyler Volm focuses his practice on employment litigation and advice. He works with business owners and managers to ensure compliance with changes in the law, and defends employers against complaints when they arise. With a background in business law, he has a unique perspective on how an employer's business needs naturally blend with employment law. An experienced litigator, Tyler represents employers in a wide range of industries in state and federal court, and is known for his creative solutions in both the courtroom and board room. Tyler is a Director on the Multnomah Bar Association's Young Lawyers Section Board, and a volunteer attorney with the Lewis & Clark Small Business Legal Clinic. A Portland native, Tyler earned his B.A. at the University of Oregon, and graduated cum laude from Lewis & Clark Law School with a Business Law Certificate in 2008. Tyler is licensed to practice in Oregon and Washington.
---
Ethics
Presented by: Paul Neese
Thursday, October 16, 2014, 12:00 – 1:00 p.m.
Multnomah County Courthouse, Room 208
Paul Neese is a lawyer in private practice. Paul represents parents and children in juvenile dependency cases, and youth in juvenile delinquency cases — primarily in Clackamas County. He also handles immigration matters and helps lawyers who are facing legal ethics concerns and/or formal bar complaints. He was previously an Assistant General Counsel at the Oregon State Bar in the Client Assistance Office. He has several years of experience helping members of the bar with legal ethics questions and dilemmas. He has been active in various bar activities over the years, including work in the American Bar Association, the Oregon State Bar House of Delegates, and the Oregon New Lawyers Division. He speaks Cambodian (Khmer) and Lao, and a small amount of French.
1 ethics skills MCLE credit will be applied for
---
Estate Planning
Presented by: Steve Kantor
Thursday, November 13, 2014, 12:00 – 1:00 p.m.
Multnomah County Courthouse, Room 208
Stephen E. Kantor is an accomplished business, estate, and trust attorney and educator with over 30 years of experience in the planning and administration of complex issues. Taking an in-depth, creative approach to problem solving, Steve establishes strong relationships with all of his clients, from young families with children to corporate business executives. As a specialist in the field of estate planning, he has been interviewed on matters regarding tax laws, charitable planning, trusts, business succession, and estate administration for Money, The Oregonian, The Daily Journal of Commerce, The Business Journal and a local television station.
1 general or practical skills MCLE credit will be applied for
---
Professionalism
Presented by: Judge John Acosta
Thursday, November 20, 2014, 12:00 – 1:00 p.m.
Multnomah County Courthouse, Room 208
Federal Magistrate John Acosta has served as Adjunct Professor at the University of Oregon, School of Law since 2001. Judge Acosta has been a member of the bar for over 20 years and currently serves as a member of the OSB Professionalism Commission. After graduating from University of Oregon he worked as an associate and then partner for Hughes, Thorsness, Gantz, Powell & Brundin and then Stoel Rives LLP. Following Stoel Rives he provided legal advice on employment and labor issues, among other things, as the Senior Deputy General Counsel of the Tri-County Metropolitan Transportation District of Oregon.
1 general or practical skills MCLE credit will be applied for
---
Child Abuse Reporting
Presented by: Amber Hollister
Thursday, December 11, 2014, 12:00 – 1:00 p.m.
Multnomah County Courthouse, Room 208
As provided in ORS 9.114, Oregon lawyers are required to complete one hour of training every three years on their duties as mandatory child abuse reporters. Satisfy your MCLE requirement with Amber Hollister's interactive session. Using hypotheticals, learn what your duty to report is, when it applies and what exceptions exist to your reporting duty. Also learn what "abuse" is, how to report it and the consequences of failing to report.
1 child abuse reporting MCLE credit will be applied for

Like us on Facebook and receive free at-the-door admission to an ONLD CLE program
---
Sponsorship Opportunities
Groups seeking sponsorship from the ONLD shall submit an application to provide information regarding how the funds requested will be used and how the use of the funds will promote the mission of the ONLD. Links to Policy Guidlenes and an Application Form follow.


---
One of the purposes of the ONLD is to conduct CLE programs of value to new lawyers and law students. If you have suggestions for CLE seminar topics please contact the ONLD at onld@osbar.org.