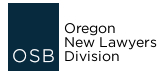 ONLD Upcoming Events
---
Settlement: Toting the Total Litigation Toolbox
Presented by: Conrad Hutterli
Monday, August 28, 2017, 12:00 – 1:00 p.m.
Multnomah County Courthouse, Room 228
A primer on positioning your lawsuit for optimal settlement outcomes.
Conrad Hutterli started his sole practice in 2000 focusing on estate planning, probate, trust administration consultation and litigation & domestic relations. Conrad received his JD from Willamette University after getting his Master from the University of Wisconsin – Madison. He has volunteered with the OSB Family Law Section as their editor and has spoken at many conferences with various sections throughout the state. In 2003 he served as a Pro Tem Judge in Washington County.

1 general or practical skills MCLE credit will be applied for
---
Like us on Facebook and receive a free at-the-door admission to an ONLD Brown Bag program.
One of the purposes of the ONLD is to conduct CLE programs of value to new lawyers and law students. If you have suggestions for CLE seminar please contact the ONLD at onld@osbar.org.
---
ADA Accommodation
If you would like to request accommodations for a bar meeting or event, please contact Michelle Lane at mlane@osbar.org as soon as possible but no later than 48 hours before the scheduled event. More information about accommodations can be found here.