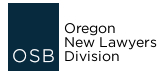 ONLD Upcoming Events
---
Mediation Advocacy: When & How to Effectively Mediate a Case to Conclusion
Presented by: Lisa Amato
Tuesday, April 25, 2017, 12:00 – 1:00 p.m.
Multnomah County Courthouse, Room 208
Representing clients in mediation is unlike representing clients in arbitration. Effective advocacy techniques are different. Negotiation is at the center of the mediation process, and the range of your clients' needs are different. Learn to evaluate when mediation may make sense for your client, how to prepare a civil case for mediation, and how to work with the mediator to achieve best results.
Lisa Amato is the owner of Amato Mediation in Portland, Oregon. Lisa is a full-time mediator and dispute resolution consultant specializing in resolving disputes for civil litigants and business owners in the Pacific Northwest. Twenty-five years of litigation experience is the catalyst for her curiosity and study of decision-making in negotiation. She has held a number of leadership positions on the Oregon State Bar ADR Section, the Federal Bar Association ADR Section, the Oregon Mediation Association, and is active in other professional organizations. She has taught mediation and negotiation techniques and has published numerous articles. She earned her BS from the University of Portland and her JD from Willamette University College of Law.
1 general or practical skills MCLE credit will be applied for.




---
ONLD Social
ONLD Social
Wenesday, April 26, 2017, 5:00 – 6:30 p.m.
Mother's Bistro , 212 SW Stark St, Portland, OR
Please join the Oregon New Lawyers Division for an April 26 social. We will be at Mother's Bistro on Stark. Ask the host/hostess to point you in the direction of the Oregon New Lawyers Division. We will be in a small open room to the left of the bar. Appetizers will be provided. No host bar. No RSVP required. We hope to see you there! Questions? Email Mae Lee Browning at maelee@cohenbrowning.com or call/text at 310-227-7659.






---
Like us on Facebook and receive a free at-the-door admission to an ONLD Brown Bag program.
One of the purposes of the ONLD is to conduct CLE programs of value to new lawyers and law students. If you have suggestions for CLE seminar please contact the ONLD at onld@osbar.org.
---
ADA Accommodation
If you would like to request accommodations for a bar meeting or event, please contact Michelle Lane at mlane@osbar.org as soon as possible but no later than 48 hours before the scheduled event. More information about accommodations can be found here.