Diversity & Inclusion

2015 OLIO Orientation
What is OLIO?
Opportunities for Law in Oregon (OLIO) is the Oregon State Bar's recruitment and retention program for law students who can contribute to the bar's historically or currently underrepresented membership; who have experienced economic, social, or other barriers; who have a demonstrated interest in increasing access to justice; or who have personally experienced discrimination or oppression.
This diversity and inclusion program begins with an orientation that provides a diverse group of Oregon's first-year law students with the opportunity to interact with each other, and with upper division students, judges and leaders who will serve as their mentors and role models. During orientation, students meet a diverse community of supporters committed to helping them succeed. The curriculum focuses on sharpening existing skills and providing new skills to help ensure success in law school and beyond. Students receive valuable information on networking, study skills and Oregon bar exam preparation.
OLIO participants also have opportunities to reconnect throughout the year at several OLIO events, including a bowling networking event (BOWLIO), an employment retreat and a spring social.
OLIO is a fundamental tool for recruiting and retaining diverse legal talent in Oregon and increasing the diversity of the Oregon State Bar. OLIO fosters an engaged, supportive and inclusive legal community necessary to advance our legal profession and improve legal services to an increasingly diverse population, clients and customers, locally and globally.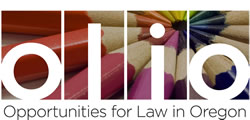 Support OLIO – Donate now using PayPal
OLIO fosters innovation and excellence by creating a diverse community of talented lawyers in Oregon. A diverse bar is necessary to remove barriers to justice, promote respect for the rule of law, improve the quality of legal services and increase access to justice. Your tax deductible donation to the Oregon Law Foundation, OLIO's fiscal sponsor, supports OLIO.
Find us on Facebook, Twitter and LinkedIn!



OSB Diversity Story Wall Website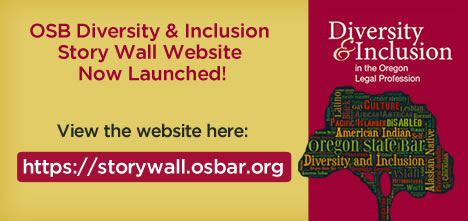 OSB Diversity Action Plan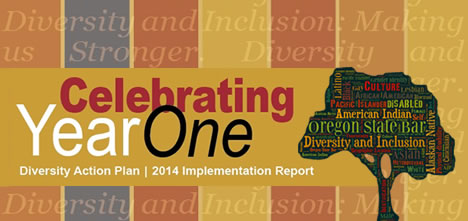 Advisory Committee on Diversity and Inclusion (ACDI)
Duties/Responsibilities
Members of the Advisory Committee on Diversity and Inclusion (ACDI) score applications for the Public Honors, Clerkship Stipend, Scholarship, and Bar Exam Grant programs. This committee of 16 volunteer attorneys and a public member is a critical part of the Diversity and Inclusion Department. The Committee also provide vision, advise the D&I staff, and are strong program advocates.


2015 ACDI Committee Roster

| | | |
| --- | --- | --- |
| Starke, Cynthia J | | Chairperson |
| Alarcon, Jacqueline Lizeth | | Secretary |
| Asai, Jessica A | | Member |
| Batrakova, Irina S | | Member |
| Butler, Deborah M | | Member |
| Davis-Larry, Sherisa | | Member |
| Liou, Jonathan S | | Member |
| McKelvey, Connie Elkins | | Member |
| Moses, Gabriel Elias | | Member |
| O'Brien, David P | | Member |
| Patterson, Jonathan A | | Member |
| Rose, J Nicole | | Member |
| Simon, Daniel | | Member |
| Umscheid, Lisa M | | Member |
| Wadia, Yazmin | | Member |
| Wu, Michael Y | | Member |
| Levelle, Michael D | | BOG Contact |
| Gregory, Shari R | | OAAP Liaison |
| Browning, Mae Lee | | NLD Liaison |
| Hyland, Mariann | | Bar Liaison |
Diversity & Inclusion Staff

Mariann Hyland
Director of Diversity & Inclusion
phone: (503) 431-6337
fax: (503) 598-6937
mhyland@osbar.org

Christopher Ling
Diversity & Inclusion Coordinator
phone: (503) 431-6338
fax: (503) 598-6938
cling@osbar.org

Benjamin James
Diversity & Inclusion Assistant
phone: (503) 431-6335
fax: (503) 598-6999
bjames@osbar.org
Links
Oregon Law Schools

Lewis & Clark Law School

Willamette University College of Law

University of Oregon School of Law
Thinking About Becoming an Attorney?
The following links are resources that may assist you as you begin to explore a career in the legal profession.
Top Ten Things You Need to do to Become a Lawyer

Council on Legal Education Opportunities

College Resource Network - Scholarship Search Engine

Fastweb – "Paying for School Just Got Easier"

For People of Color – Empowering People of Color to Enter Law School and Become Attorneys

For People of Color - Guide to Law School Application Process

Tips from the American Bar Association (ABA) on Preparing for Law School

Law School Admission Council (LSAC)

Law School Admissions Test (LSAT) Dates
Oregon Law School Admissions Offices:

Lewis & Clark Law School

University of Oregon School of Law

Willamette University College of Law
Specialty Bars & Minority Bar Associations

OSB Disability Law

OSB Diversity Section

OSB Indian Law

Multnomah Bar Association (MBA)

Oregon Asian Pacific American Bar Association (OAPABA)

Oregon Chapter, National Bar Association (OCNBA)
- Please contact OCNBA President, Jon Patterson, for information

OGALLA: The LGBT Bar Association of Oregon

Oregon Hispanic Bar Association (OHBA)

Oregon Minority Lawyers Association (OMLA)

Oregon Women Lawyers (OWLS)
External Scholarship Opportunities for Law Students

Oregon Student Assistance Commission

ABA Legal Opportunities Scholarship for incoming 1Ls
Student Loan Resources

TheSimpleDollar.com - Student Loan Consolidation Guide
Other Diversity Resources

2011 Oregon Legislative Report on Racial Equity

Coalition of Communities of Color

Is Race Real?

Race – Are We So Different?

Race – The Power of an Illusion

Racial Disparities in Multnomah County report

Report of the Oregon Supreme Court Task Force on Racial/Ethnic Issues in the Judicial System May 1994

Portland Indian Leaders Roundtable
Job Resources

OSB Job Board

OSB Diversity & Inclusion LinkedIn